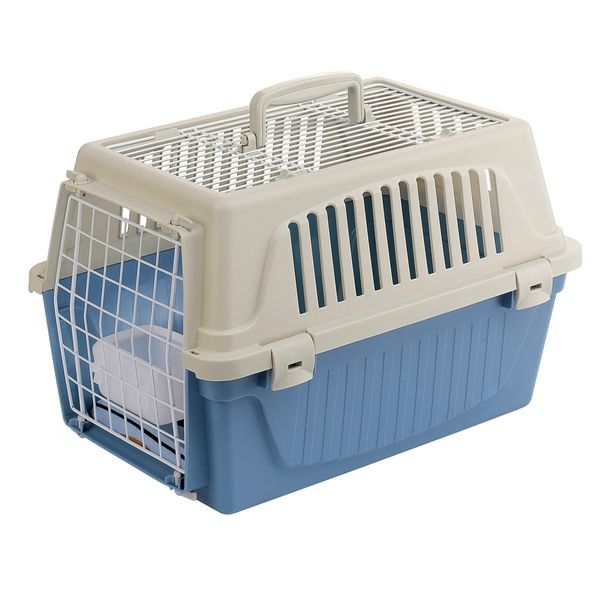 ATLAS10 OPEN (73015099)
ATLAS 10 OPEN  48 x 32.5 x h29cm
ATLAS 20 OPEN  58 x 37 x h32cm
ATLAS 30 OPEN  60 x 40 x h38cm
To travel with cats and small dogs

Safe grip thanks to the ergonomic handle

Lateral grills for good ventilation

Easy to open top

Cotton cushion and feeder included

Assembly and knockdown in a flash thanks to side locks

Available in three sizes
Washable cotton cushion

Plastic feeder
Atlas Open: the panoramic model in the Atlas range of pet carriers. Do you prefer a pet carrier for dogs and cats with a closed roof or an open one? The choice is yours! 
Your pets will travel in first class: they can eat and drink whenever they want to or they can doze on a comfortable cotton cushion. Atlas Open pet carriers for cats and dogs are comfortable and safe. They are made of plastic and can be opened from both the door and roof, which are made of plastic-coated steel. The lateral plastic fasteners ensure a perfect fit, thanks to the special locking system. 
The Atlas Open pet carrier for dogs and cats is ideal for taking your four-legged friend with you by train, plane or boat. It can also be placed on the car seat for short trips, like a trip to the vet for a check-up or for a short trip into the countryside. There are three available models: Atlas 10 and 20 Open are suitable for both cats and small dogs, while the Atlas 30 larger model is best for dogs and large cats.