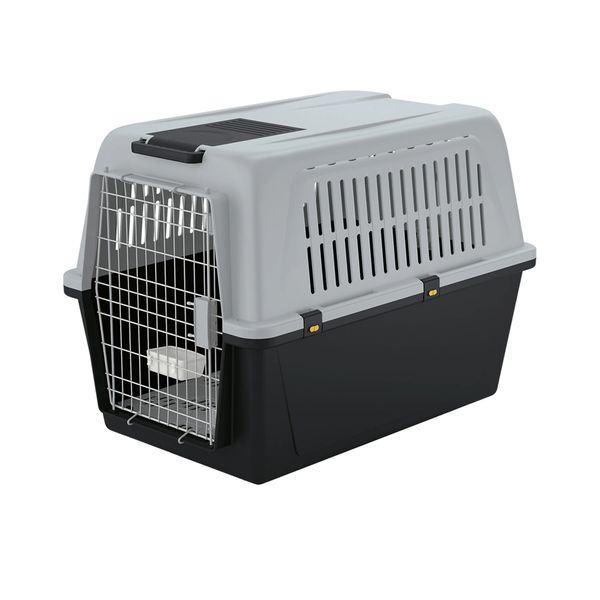 ATLAS PROFESSIONAL
Three models for medium and large-sized dogs
Ideal to travel by train, plane, boat or car
Produced according to IATA air transportation regulations
Grills for maximum ventilation
Easy to move thanks to the pull-out handle
Lateral locking catches with safety blocking system
Plastic-coated steel door and security locking system (Atlas 40 not included)
Hygienic draining mat keeeping the carrier perfectly dry
One feeder included, also available as spare part
Useful compartment for accessories
Are you planning to go on holiday? No problem! Thanks to the Atlas Professional pet carriers, you will be able to take your faithful friend with you, by boat, train, car or even by plane. In fact, the Atlas Professional boxes are manufactured in compliance with the IATA air transportation standards that govern construction and mounting of internal accessories. 
Please note: Complying with these guidelines does not guarantee boarding of the aircraft, as this is at the discretion of the airline. Before setting off with your furry friend, we suggest you contact the airline and request information regarding the rules adopted by the specific airline. 

All dog pet carriers in this range are equipped with lateral spring hooks with safety locks and a solid door, made of plastic-coated steel, a retractable and extendable handle, a feeding trough for food or water, lateral ventilation grilles for proper air circulation, a solid safety lock, a hygienic draining mat and a compartment for objects. Included inside the package, at last, you will find some clamps which can be fixed to the carrier door to guarantee more safety and 8 screws which can be fixed to the suitable holes of side closing systems.
The wheels (optional) can be attached to the bottom of the cage: L145 wheel kit for Atlas 40, L388 kit for Atlas 70 or the wheel kit L388B for Atlas 50 and 60 Restyling. This kit includes 2 fixed wheels and 2 pivoting wheels with brake.