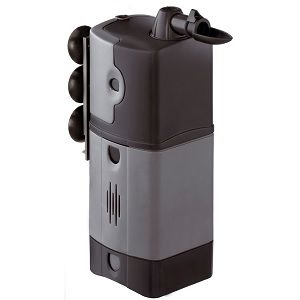 BLUMODULAR 1
Internal modular filter with adjustable flow. 3 sizes.

Modular, equipped with modules you can combine at will
Extremely versatile: different filtering materials can be used simultaneously
Patented closing device system that closes water intake grills
High water oxygenation thanks to the included spray-bar and kit venturi
Easy to clean
Supplied complete with filtering material
Accessories and spare parts: synthetic sponges and module

Blumodular is an innovative internal filtering system for aquariums equipped with modules that may be combined and added as you like. This aquarium filter lets various materials be used simultaneously, guaranteeing at the same time high power suction, excellent filtering capacity and rapid water flow. Inside the filter Blumodular, water runs through all filtering materials levels since liquid enters sideways, then it is carried towards the lower part and from the bottom starts afterwards to rise: in this way high oxygenation of water is ensured also thanks to the spray-bar and kit venturi (both included) used to create bubbles and water movement. Closing devices automatically close the water intake grill to prevent the dirt from returning to the tank during maintenance operations. Blumodular diffuser is multi-direction and nozzle is adjustable. 





The internal aquarium filter Blumodular is available in three different sizes with a filter volume of maximum one litre. You can also buy some practical accessories and spare parts like the synthetic fine and coarse sponges and active carbon sponges. Separately, you can also purchase the modules which allow filter composition according to your needs.