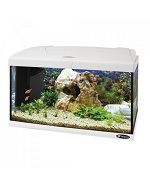 CAPRI 60
Glass aquarium with lamp and internal filter
Dimension: 60 x 31,5 x h 39,5 cm - 60 L
The fish aquariums Capri are solid and safe, all manufactured in the respect of the principal European safety regulations. Feauturing a watertight lid which is not hinged to the tank, they all are equipped with a large front hatch for easy maintenance. Complete with integrated internal filter system Bluwave, they have a lamp with reflector dish and switch integrated to the power cable. With the aim to satisfy all demanding customers, from today the Capri aquariums are proposed in an up-to-date white colour, perfect to furnish even very modern homes. You could choose among three different models: Capri 50, Capri 60 and Capri 80. The larger models Capri 60 and 80, besides, are equipped with a hatch on the cover, useful to add the automatic fish feeder Chef Pro. In case you want to fit an external filter, instead, you could do that very quickly thanks to the suitable snap-off plugs on the cover.
Capri aquariums glass thickness is 4 or 6 mm.
Available as optional, you could buy separately the stands in a black colour finish, especially designed to support the tanks.

Glass thickness 4 mm
Lid not hinged to the tank
Front hatch for everyday maintenance
Snap-off plugs to install an external filter
Hatch on the cover to add some accessories like an automatic feeder
On/off switch integrated to the power cable
Complete with lamp T8 with reflector dish
Integrated internal filter system Bluwave
Overtank lamp complete with reflector dish with one neon T8 lamp: 1 Toplife 15W 

Internal filter Bluwave 03 with heater Bluclima 100, pump Blupower 350 and filtering materials