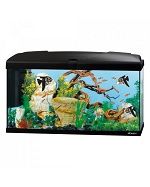 CAPRI 80
Glass aquarium with lamp and internal filter
Dimension: 80 x 31,5 x h 46,5 cm - 100 L
The fish aquariums Capri are solid and safe, all manufactured in the respect of the principal European safety regulations. Feauturing a watertight lid which is not hinged to the tank, they all are equipped with a large front hatch for easy maintenance. Complete with integrated internal filter system Bluwave, they have a lamp with reflector dish and switch integrated to the power cable. In the larger models Capri 60 and 80, besides, there is a hatch on the cover, useful to add the automatic fish feeder Chef Pro. On the cover, suitable snap-off plugs are ready for fitting the pipes to install an external filter.
Capri aquariums glass thickness is 4 or 6 mm.
Available as optional, you could buy separately the stands in a black colour finish, especially designed to support the tanks.

Glass thickness 6 mm
Lid not hinged to the tank
Front hatch for everyday maintenance
Snap-off plugs to install an external filter
Hatch on the cover to add some accessories like an automatic feeder
On/off switch integrated to the power cable
Complete with lamp T8 with reflector dish
Integrated internal filter system Bluwave
Overtank lamp complete with reflector dish with one neon T8 lamp: 1 Toplife 18W 

Internal filter Bluwave 03 Power with heater Bluclima 100, pump Blupower 500 and filtering materials