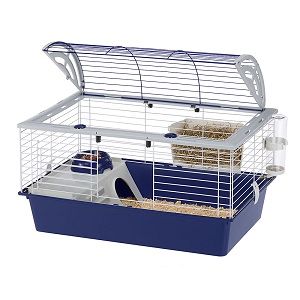 CASITA 80
Dimension: 78 x 48 x h 50 cm
Cute decorations on the base, washable and durable
Sliding door, safer for the pet
Full opening roof, easy cleaning
Accessories included
Two kinds of decorations available
Save-space packaging

Casita 80 Decor is an attractive, comfortable guinea pig cage. It has cute decorations on the base, printed using cutting-edge technology that makes them washable and durable. All the Casita cages were designed specifically to offer the utmost comfort to your rodents. They are built in sturdy plastic with a painted wire mesh structure. The roof is rounded, can be opened up completely and it is easy to remove for cleaning. Inside, you will find useful accessories like a feeder, a drinking bottle and a plastic food bowl. Casita 80 Decor also has a little plastic house with a stepped wall, allowing your little friend to climb up to it with ease.