CAVALIER KING CHARLES JUNIOR 1.5KG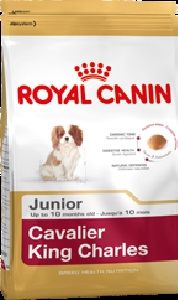 CAVALIER KING CHARLES JUNIOR 1.5KG
Complete feed for dogs junior - Specially for Cavalier King Charles Spaniels puppies - Up to 10 months old

Cardiac tone
CAVALIER KING CHARLES JUNIOR contains the nutrients necessary to help support good cardiac function : adapted content of minerals, EPA & DHA, taurine, L-carnitine and antioxidants.
Natural defences
This formula helps support the Cavalier King Charles Spaniel puppy's natural defences.
Digestive health
This formula contributes to supporting digestive health and promoting a balance in the intestinal flora.
Exclusive kibble: dental health
This formula helps reduce tartar formation thanks to calcium chelators.