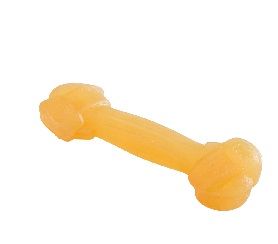 CEREAL BONE
Natural components

Strenghten dog's teeth and promote dental hygiene

Does not alter dog's diet

Promotes playtime

Completely non toxic and biodegradable

Has no expiry date

Safe if ingested

Flavoursome and highly attractive

Available in 6 sizes for all dogs
This is GoodBite Natural, a range of natural products that ensure your dog's healthy chewing. Made by natural ingredients, absolutely safe if ingested, these toys are especially attractive to your dog, as they come in six different flavours and six sizes. GoodBite Natural Cereal, for example, has a delicate flavour for dogs who do not like strong flavours. 
GoodBite Natural chewing toys do not modify your four-legged friend's diet, but work as an effective anti-stress toy and, at the same time, help take care of your pet's teeth. 
Six sizes are available, for puppies and adult dogs of all kinds. They are safe products, tested and developed in collaboration with important research centres and universities.