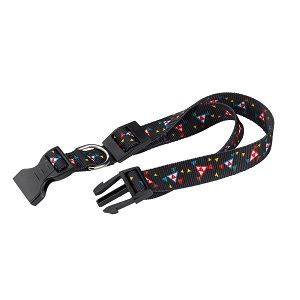 CLUB VERVE COLLARS
Nylon collar for dogs
Three different sizes for all dogs
Fanciful and colourful model with an abstract design
Perfectly matching with the other products of the same range

Dog collars Club Kandinsky have a black-coloured base with an abstract geometric design which has been freely inspired by the operas of the homonymous Russian artist. Made of robust nylon, they are very classic accessories fo dogs, guaranteed playmates of your dog's everyday walks, they have a very simple and essential design and are available in three different dimensions perfectly adapting to dogs of all sizes, from the smallest to the bigger ones. Like all the collars belonging to the Club range, they have a solid plastic latch and are easy to adjust thanks to their special sliding plastic buckle. 





We would like to remind that the range Club Kandinsky also includes traditional leads you could match whenever you want for a total look of you dog.