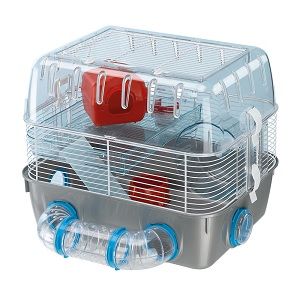 COMBI 1 FUN (57926499)

Hamster cage on two floors with playing area
Dimension: 40,5 x 29,5 x h 32,5 cm
The ideal habitat for lively small pets
Modular cage, ready to be connected to tubes or other modular habitats
Suitable side holes ensuring maximum internal ventilation
Mesh roof guaranteing air passage
Removable base and opening top or easy cleaning
Accessories included

Combi 1 Fun: the hamster cage which allows to home small pets in total safety. Made from plastic, it has a transparent roof with a useful mesh grid on the top to ensure internal ventilation and is equipped with all comforts: feeder, nest, wheel, drinking bottle, as well as plastic tubes for your pet great amusement. Thanks to the structure on more floors, besides, it offers large areas for the different daily activities and let the rodent keeping himself always fit and healthy. 




Easy to maintain, Combi 1 Fun has useful side clips which can be completely unlocked for cleaning. 





Combi 1 Fun, like many other rodent cages made by Ferplast, is a modular habitat and is, therefore, designed for the connection of tubes or other accessories: in this way, you could widen as you prefer the living area of your small rodent.