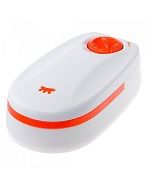 COMETA
Automatic food dispenser for dogs and cats
Equipped with a timer for programming its opening for up to 44 hours
Suitable for small dogs and cats
Provides food to your pet at the set time, even if you are not at home
Ideal for dry food 0.4 litre capacity
Made from solid plastic
Easy maintenance and cleaning thanks to the removable bowl
Non-slip feet for greater stability
Connection plate provided, allowing you to connect 2 Cometa dispensers in order to provide a double meal at different times
Safe product due to the safety low voltage
Functions with a 1.5V AAA LR03 alkaline battery (not included)
When you are not at home, Cometa will take care of everything! This food automatic food dispenser for dogs and cats will provide food to your pet at the set time. The Cometa bowl is, in fact, equipped with a timer to easily programme its opening for up to 44 hours. It is ideal for small dogs and cats, has a capacity of 0.4 litres and is perfect for dry food. If you need to provide a double meal at different times, you can link two dispensers together, at any time, by using the special connection plate provided.

Cometa is made of strong plastic and has a rim with non-slip feet, guaranteeing greater stability. Maintenance is easy thanks to the removable bowl, which can be washed like any normal bowl. The dispenser can be cleaned by simply using a damp cloth. 

How do you encourage your furry friend to use Comet? There are a few simple ploys that you can use! 
It advisable to get your pet accustomed to the dispenser while you are present. Once your pet has become accustomed to it, you can then proceed to programme it. Cats usually need more time to get used to it, while dogs need to be watched during the first period of use, because they might damage the product. We advise you to begin using the dispenser as a normal bowl. Do not use the timer straight away.
For the product to function, make sure you use one 1.5 V AAA LR03 alkaline battery (not included). Do not use rechargeable batteries.