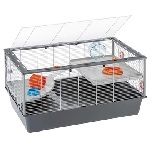 CRICETI 100 (57011911)
CRICETI 100
In accordance with the strictest European standards regarding the dimension of cages, Criceti 100 ensures plenty of space and living comfort for your little friend. The habitat is divided in three floors, with stairs to create different areas for use throughout the day. Thanks to its roomy bottom, the \ground floor\ contains the litter sand effectively, keeping it from spilling out and allowing your hamster to hide and to have fun digging around. On the upper floors your hamster can eat, drink, play or rest with the indispensable accessories included: bowls, water spout, wheel and nest. The accessories can be positioned according to the preferences of your hamster.

Criceti 100 is a hamster cage built with high-quality materials: the metal mesh is varnished, while the structure has plastic columns and frames for extra solidity and sturdiness. The upper part has an easy-opening, wide and practical grid for easy access to the internal part when it comes to maintenance. Safe for your pet, the grid can easily be locked thanks to the rotating safety hooks. The bottom part, the top part and the grid can be easily detached to make cleaning easier.
Criceti 100 is ready to be connected to other living modules, tubes or other rodent accessories.