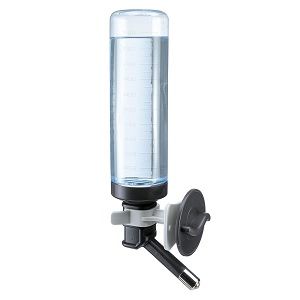 DRINKY DOG
Universal water dispenser for dog carriers. Rapid fastening system.
Dimension: 7 x 11 x h 31 cm - 0,6 L
Universal drinker for dogs
Ideal for many dog carriers by Ferplast: Atlas Car, Atlas Professional and Atlas Classic
Made of non-toxic, recyclable and transparent plastic
External graduated scale
Equipped with rapid fastening/unfastening system

Drinky Dog: the ideal accessory for traveling with your dog! This drinker, manufactured in non-toxic plastic, has a capacity of 0,6 litres and can be fixed with extreme ease to your carrier wire net structure, thus ensuring water is always available. The bottle has external printed instructions in cc, useful to keep water level under control. Drinky Dog is ideal for all dog carriers by Ferplast belonging to the range Atlas Car, Atlas Professional or Atlas Classic. Is in effect equipped with rapid fastening system with suitable plastic hook. 




Instructions: shake the bottle to allow the water to flow into the spout. A few drops of water will fall out until an air pocket develops inside the bottle.