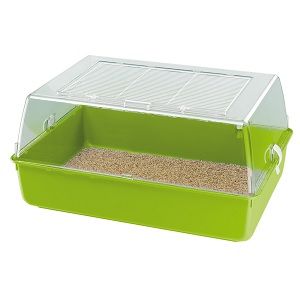 DUNA
MINI DUNA
Hamster cage with opening roof
Dimension: 55 x 39 x h 27 cm
DUNA
MAXI DUNA
Rabbit and guinea pig cage
Dimension: 99 x 51,5 x h 36 cm
Made by plastic with transparent roof
Top made of wire net to allow air circulation
Opening roof and removable base for easy cleaning

Mini Duna Multy is a plastic hamster cage with a transparent roof and a wire mesh grid to ensure proper air flow. For your pet's safety, there are two small clips on the top that allow you to keep the grid tightly closed. 




By releasing the clips on the sides, you can separate the roof from the base and proceed with cleaning.






Maxi Duna Multy is very spacious, has a simple shape and is the ideal home for guinea pigs and rabbits. It is very large - almost one metre long - and has a large, transparent plastic roof with a grid on top that can be opened. 




As for cleaning, nothing could be simpler! The base is fully detachable from the roof, thanks to the handy clips on the sides.