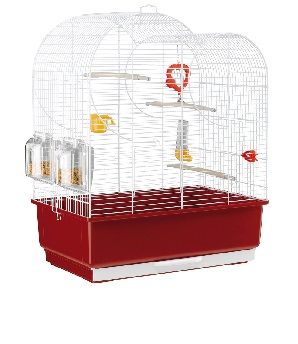 EVA
Ideal for canaries, exotic and other small birds
Plastic coated metal wire structure
Wide base with removable tray
Carrying handle
Accessories included

Eva is a medium-sized birdcage for canaries, exotic birds and other small birds. It is sturdy and comfortable and was created by our designers to provide your birds all the space they need. It is very practical, thanks to the removable tray for easy cleaning, and has a deep base to prevent dirt from leaking out. Accessories included: removable swivel feeders, rubber-coated plastic perches, a drinking bottle, a food clip for vegetables, a feeder for mash and a toy with a mirror and a little bell.