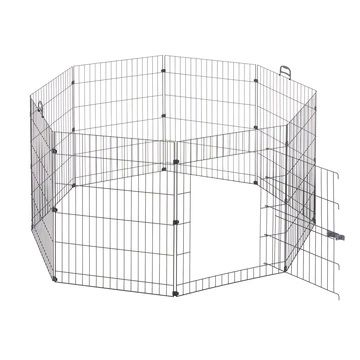 FREERUN LARGE (57045917)
FREERUN
Freerun is a solid and sturdy pen for rabbits and guinea pigs that allows you to home your cute friends in complete tranquility in the open spaces, in the backyard. The fence is made of steel painted with special powders that create a non-toxic, protective and anti-rust plasticized coating, guaranteeing maximum durability, resistance and strength over time. Easy to assemble, it is equipped with a door with safety lock and comfortable handles to facilitate movement.
Available in different sizes that you can choose according to your needs, it takes up little space once disassembled, so it is really practical to store and transport.

Furthermore, it is possible to apply the Metrò universal connection system (tunnel, fittings and small house) to the outdoor pen, thus expanding the space available to your friend: have fun creating many new paths by encouraging exercise and moments of leisure!