GRAND LODGE 120 (57085360)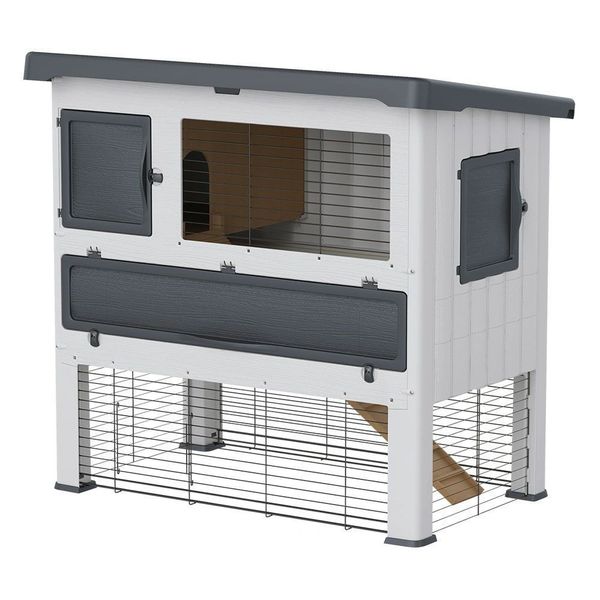 GRAND LODGE 120 (57085360)
GRAND LODGE 120
Grand Lodge is a plastic hutch with a patented design, very large and comfortable. If compared to the equivalent sizes of the wooden rabbit hutches of the range Ranch, in fact, Grand Lodge offers up to 30% more living space thanks to its increased height of 10 cm and a bigger depth of 5 cm. Your rabbit will really have very much room for himself!

The habitats for rabbits Grand Lodge are available in two different sizes, 120 and 140, and in three colours: next to the traditional colours with details in brown or green, from today you could also find the new grey.
Besides, according to your needs, you could choose the version with two floors or the Classic version with one floor. Moreover, is also available the Plus version which distinguishes for the equipement with an additional removable tray for dirt collection.

All the plastic rabbit hutches Grand Lodge have in common innovative technical features rendering them very safe and comfortable: inside, they have a rabbit house with wooden wall and entrance door, a useful openable side door and efficient secure lock systems. As for maintenance, they have a fully opening roof and a practical pull-out tray for dirt collection.

Grand Lodge 120 and 140 are supplied complete with accessories like rodent feeder, drinking bottle, food bowl and wooden ladders which let your rabbit to easily reach the upper floors. Available as optional, you could buy the suitable protective roller to create some sheltered areas or the roof insulation kit to protect the habitat both from heat and cold weather.
Made of sturdy plastic, ideal also for outdoor use
Large living space for your rabbit
Available in two sizes and three colours
Save space packing
Complete with accessories
Easy to clean thanks to the opening roof and the pull-out tray
Optional: protective roller and roof insulation kit
Grand Lodge 120:
Total dimensions of the hutch with roof: 115,5 x 73 x h 110 cm
Interior dimensions of the hutch: 107 x 63 cm
Interior dimensions of the rabbit house: 37 x 60 cm
Grand Lodge 140:
Total dimensions of the hutch with roof: 134 x 73 x h 110 cm
Interior dimensions of the hutch: 127 x 63 cm
Interior dimensions of the rabbit house: 37 x 60 cm