GRAND LODGE PLUS 120 (57087800)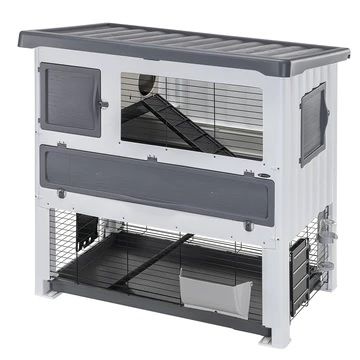 GRAND LODGE PLUS 120 (57087800)
GRAND LODGE PLUS 120
Here is the \top\ version of the rabbit hutches Grand Lodge!
Grand Lodge 120 and 140 Plus will become the ideal home for all playful rabbits who enjoy mouvement. These plastic hutches present a strong structure with a slightly sloping roof and external sides with rounded contours.
Proposed in one single colour with dark grey details, Grand Lodge Plus is a real double-floor residence. The first floor, ideal for sleeping, has a comfortable house with wooden elements and ladder. The lower part, instead, can be used as a pen inside which your small animal could be free to play, eat and drink. Thanks to a useful opening door, then, your pet could go out from the habitat and walk about freely in your home, in the porch or in the garden.

Grand Lodge 120 and 140 Plus are complete with accessories: ladders, drinking bottle, hay feeder and plastic bowl.
As optional, then, you could purchase separately the protective roller made from PVC or the suitable roof insulation kit, perfect to ensure a further protection from all climatic conditions.