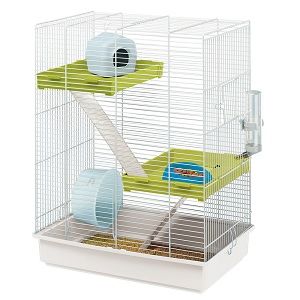 HAMSTER TRIS (57018411)

Three-floors hamster cage
Dimension: 46 x 29 x h 58 cm
Standing structure for giving more playing area to small pets
Reaised floors for resting moments, connected by ladders
Removable tray for easy cleaning
Accessories included

Hamster Tris is a hamster cage with a vertical structure, designed to ensure your rodents have a lot of fun, while reducing the overall dimensions to a minimum. Complete with plastic shelves connected by ladders, it is the ideal habitat for very lively hamsters. Inside the package, you will find other essential accessories: a little plastic house, a wheel, a drinking bottle and a food bowl. Useful little doors at the front and on the side of the cage are useful for daily cleaning. To clean the cage completely, nothing could be simpler, as the base can be detached from the structure in an instant.