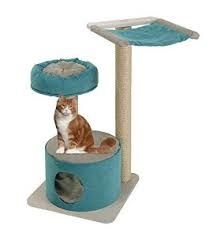 JAGO
50 x 50 x h94.5cm
Made of solid wood
Italian design
Great care for details, designed for your pet's comfort
Vertical structure with platforms for relaxation
Internal bed with hole and cushion
Complete with double-face cushions for all seasons
Columns made of sturdy sisal
This cat scratching post with vertical structure will offer your friend a welcoming shelter allowing at the same time to keep fit and agile: your friend could jump from one platform to the other. The double-face cushions it is equipped with can be used in every season of the year: the warm side made of synthetic plush is ideal for the cold season, the side made of synthetic fabric, is more fresh and perfect in summer. Easy to maintain and very practical, the cushions are made of soft water-repellent fabric.
In the lower part, you will find then a comfortable bed where your cat could sleep far for prying eyes.
The cat furniture Jago is made of wood, sturdy and solid, equipped with a square leaning base. Is complete with columns covered by hardy sisal allowing your friend to scratch as he likes.
With an entirely Italian design, Jago belongs to the new range of furniture and scratching posts for cats of all sizes, perfect to find a place in all homes and adapt to all space needs.