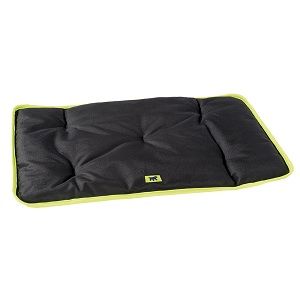 JOLLY
Very sturdy, made from anti-scratch and waterproof fabric
The ideal cushion for dog carriers like Atlas Car and Atlas Vision and for outdoor kennels
Suitable for all dogs, available in five sizes and three colours
Machine washable at 30°C
Jolly is a cushion for dogs, made of hi-tech, super durable, waterproof fabric. It is ideal inside dog carriers in the Ferplast Atlas Car or Atlas Vision range and is also useful as a car seat cover or for protecting your car boot. 
Jolly is also an excellent accessory for wooden dog kennels like Baita, Domus and Canada, as well as for plastic dog kennels Dogvilla. In fact, thanks to the special material in which it is made, it is particularly tough and hardwearing, even with extensive use. 
In five different sizes, from 57 to 108 cm in length, for dogs of all sizes, Jolly can be chosen in traditional colours like black and brown, from today is also available in the new colour military green. 

To keep the Jolly cushion new, we recommend machine washing at low temperatures of maximum 30°C.