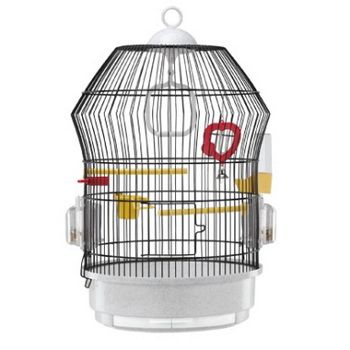 KATY
Canary and small exotic bird cage
Dimension: Ø 36,5 x 56 cm
Ideal for canaries, exotic and other small birds
Complete with ring on the top to hang it up
Rounded base with two removable trays
Accessories included

Katy is a small round birdcage for canaries or small exotic birds, equipped with a ring on top for attaching it to the plastic stand, which is sold separately. The plastic base has two small removable trays that make daily cleaning effortless. Katy comes complete with accessories, including a swing, a mirror-toy with a little bell, plastic perches, a drinking bottle, a food clip, a feeder for mash and Brava 1 swivel feeders.