ROYAL CANIN KITTEN PERSIAN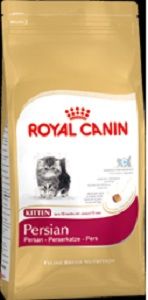 ROYAL CANIN KITTEN PERSIAN
Balanced and complete feed for cats - Specially for Persian kittens (up to 12 months old) - Gestating or nursing queens

Digestive performance
A specific combination of nutrients helps maintain the Persian kitten's digestive health. Highly digestible proteins (L.I.P.*), an adapted fibre content (including psyllium) and prebiotics help promote a balance in the intestinal flora.
Healthy skin & long hair
Helps support the skin's "barrier" role and helps maintain skin and coat health. Formula enriched with EPA & DHA.
Natural defences support
Helps support natural defences thanks to an exclusive complex of antioxidants.
Special brachycephalic jaw
"Ruby 6", a kibble specially designed to make it easier for the Persian kitten to grasp and encourage her to chew.