ROYAL CANIN LIGHT WEIGHT CARE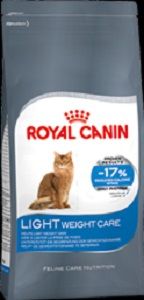 ROYAL CANIN LIGHT WEIGHT CARE
Balanced and complete feed for adult cats - Recommended to help limit weight gain

Proven results: -17% reduced calorie intake - daily average
Maintaining an ideal body condition and muscle mass is a crucial aspect of a cat's overall health.
LIGHT WEIGHT CARE is a precisely balanced nutritional formula enriched with highly digestible proteins for a healthy weight loss.
With double action:
- Satietogenic effect: contains a blend of fibres including psyllium to increase food volume in the stomach, thus helping to naturally reduce spontaneous eating.
- Low fat content: helps reach or maintain ideal weight. Contains L-carnitine.
PROVEN RESULTS: with exclusive use of LIGHT WEIGHT CARE, the calorie intake is reduced by 17%* and the cat's appetite is satisfied.
*Royal Canin internal study, 2006 - Spontaneous daily consumption compared to a super premium maintenance feed for cats.