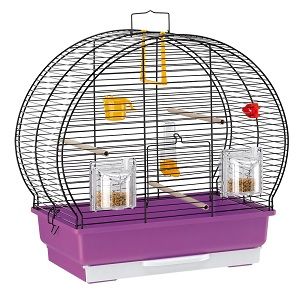 LUNA 2 (52005517)
LUNA 2 
Canary and small exotic bird cage
Dimension: 44,5 x 25 x h 45,5 cm
Ideal for canaries, exotic and other small birds
Plastic coated metal wire net
Plastic base with removable tray
Carrying handle
Accessories included

Luna 2 is a small cage with a rectangular base, ideal for birds like canaries or small exotic birds. Its special structure in wire mesh that has been painted black and has a slightly rounded shape, giving your birds more living space. The Luna 2 birdcage is equipped with handle for easy carrying and contains all the necessary accessories to ensure your feathered friends live in the utmost comfort. Inside, you will find a plastic water bottle, two Brava 1 detachable swivel feeders, some plastic perches, a swing for your birds to play on, a clip for holding food and a feeders for mash. The cage is easy to look after and can be cleaned in an instant, thanks to its plastic bottom with a removable dirt-collecting tray. If necessary, you can also completely remove the bottom thanks to the handy clips on the sides. The plastic stand is available as an optional.