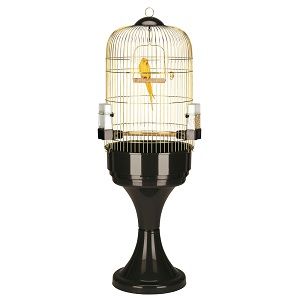 MAX 6 (55025502)
Dimension: Ø 53 x 165 cm

Specific for parrots
Mde of brass-plated wire net
Rounded wide base
Removable trays for easy cleaning
Special accessories included

Max 6 is a beautiful parrot cage. It has a round base, is very spacious and comes with a plastic stand. The finish in brass-coated wire mesh goes well with the dark base, which is equipped with two dirt-collecting trays. Max 6 comes complete with specific accessories for parrots, including a wooden perch, a metal swing and two large plastic feeders that can be used either for food or water. Max 6 also has a padlock, to ensure your parrot the maximum safety.