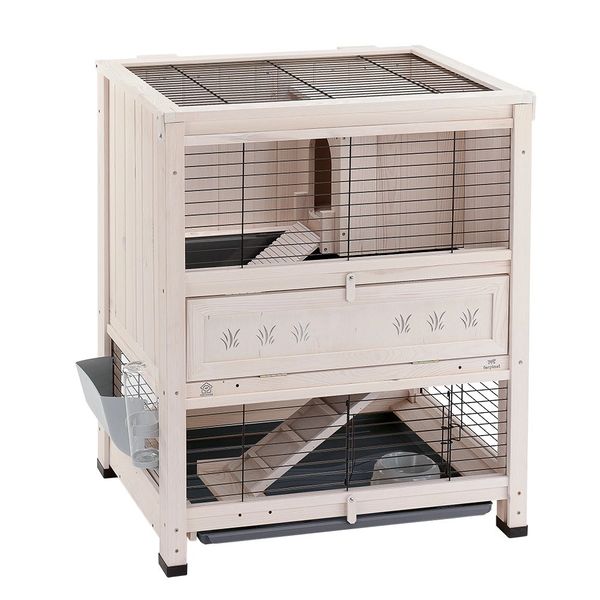 MINI COTTAGE (57093900)
COTTAGE MINI
Cottage Mini is an indoor rabbit hutch made of northern pine, created in a delicate pastel colour. Thanks to its compact sizes, it results suitable for small spaces thus ensuring your small friend will have all the comforts he needs. Cottage Mini is divided into two floors, providing your rodent freedom of movement thanks to the possibility to have access to the different areas, created for the different daily activities. In the lower part, for example, a fenced area has been created, with a sliding door that you can open to let your little friend out of the hutch.
Cottage Mini comes complete with a small rabbit house, perfect to ensure your little friend will have a peaceful and comfortable place to rest; the house is equipped with opening roof and sliding door. Equipped with accessories like wooden ladders, a drinking bottle, a food bowl and a plastic feeder, like all Ferplast rabbit hutches, Cottage Mini as well is has been designed for easy cleaning thanks to the roof that can be fully opened and the removable plastic trays.
Cottage Mini is a TREE FRIEND product, made with wood from responsibly managed forests only.
Made of Nordic pine, coming from sustainable managed forests
Compact sizes suitable for small spaces
Hinged full opening roof
Ideal for indoor
Inside little house for privacy moments
Plastic trays for easy maintenance
Accessories included
Total dimensions of the hutch with roof: 78,5 w x 59,5 d x 94 h
Interior dimensions of the rabbit house: 29 x 26,5 cm