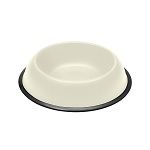 MIRA WHITE
Painted metal bowl for dogs and cats. Different sizes and colours.
Bowl for cats and dogs
Sturdy, durable and hygienic, made of painted metal
With ergonomic handles
Support base with anti-slip rubber pads for extra stability
Suitable for all kinds of food and for water
Five different sizes
Available in two colours
Very easy to clean
The Mira bowls for cats and dogs are sturdy and durable, equipped with anti-slip rubber pads and practical handles. Made of metal painted black or white, these bowls ensure maximum hygiene. They're very versatile: the perfect container for water and for any kind of food, dry or wet, pasta, rice, or biscuits. 

Available in five sizes (capacity), 0.25, 0.5, 0.9, 1.5 and 2.5 litres. The smallest sizes, Mira Kc 70 and 72, are suitable for cats.