MULTIPLA ROOF EXTENSION (57043800)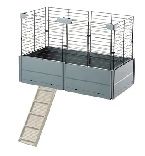 MULTIPLA ROOF EXTENSION (57043800)
MULTIPLA ROOF EXTENSION
This accessory for rabbit cages must be applied to the upper part of the habitat Multipla by Ferplast. It is ideal for creating a small loft for your friend by adapting the space to theirs and your needs.

The extension, closed on 4 sides, is made of painted metal mesh with rigid plastic walls. The base, also in plastic, is perforated to allow access from the lower level and is equipped with a ladder. It must be fixed with the appropriate connection clips.

Multipla Roof Extension can be used with the following models of cages: Multipla, Multipla Open, Multipla Maxi, Multipla Double.