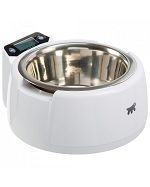 OPTIMA
A bowl complete with a built-in digital scale
Suitable for small and medium-sized dogs and cats
Weights the correct amount of food to feed your pet easily and precisely
Helps maintain your pet's ideal weight
Avoids the risk of problems linked to over-feeding
Can be used with dry or wet food, biscuits or kibble
Made of strong plastic
It's lower rim has non-slip rubber feet ensuring the utmost stability
Small in size making it easy to carry with you on various occasions
Large LCD screen
Equipped with an easy-to-use tare weight function
Complete with a 0.85 litre capacity stainless steel bowl
Compatible with Ferplast's Orion Kc 54 bowls
Easy to clean thanks to the removable bowl
It functions with 2 replaceable 1.5 V AAA type batteries (not included)
Optima is so convenient! Thanks to this bowl with a integrated digital scale, you can provide your furry friend the correct amount of food easily and precisely. Optima is particularly suited to cats and small or medium-sized dogs: it helps maintain your pet's ideal weight, thus avoiding the risk of problems linked to over-feeding. The bowl can be used for dry or wet food, biscuits or kibble. 

Optima has a large LCD display allowing you to easily verify the data and has a tare weight function. Made of strong plastic, it comes complete with a 0.85 litre stainless steel bowl, which is hygienic and resistant, removable, for easy cleaning, and compatible with Ferplast's Orion Kc 54 bowls.

Optima has a solid base with non-slip rubber feet, ensuring the utmost stability. Thanks to its small size, it can be carried with you on various occasions. It works with 2 replaceable 1.5V AAA type alkaline batteries (not included).

As far as maintenance is concerned, clean the scale and the bowl with a damp cloth. We strongly recommend that you avoid using chemical or abrasive products.