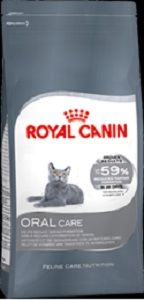 ROYAL CANIN ORAL CARE
Balanced and complete feed for adult cats - Recommended to help reduce the formation of dental plaque and tartar build-up

Proven results: up to 59% reduced tartar formation in 28 days
Tartar is the mineralization of dental plaque, which can lead to bad breath and sensitive gums. Oral hygiene plays an important part in your cat's overall health.
ORAL CARE is a precisely balanced nutritional formula which helps reduce tartar build-up, thus supporting orodental health.
With double action:
- Mechanical action: the shape and size of the ORAL CARE kibble have been specifically designed to encourage chewing and produce a daily tooth brushing effect which helps reduce dental plaque formation.
- Chemical action: formula enriched with an "active dental agent" which traps the calcium in saliva and helps prevent it from being deposited on the teeth in the form of tartar.
PROVEN RESULTS: the exclusive use of ORAL CARE is effective after 28 days: up to a 59%* reduction in tartar formation.
*Royal Canin internal study, 2005 - Compared to a control feed for adult cats not containing the Oral Care active components and measured on the most vulnerable teeth.