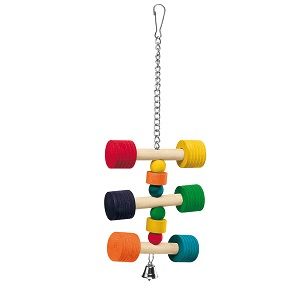 PA 4091 PARROT TOY
Dimension: 11,5 x 11,5 x h 31 cm
Toy for parrots
Useful accessory for your feathered friend's amusement
Equipped with small bell and metal chain
Available in different shapes and colours
Parrot toys are useful accessories for keeping your feathered friends busy. Choose the one that you like most from the six models available: PA 4091, PA 4092, PA 4094, PA 4095, PA 4096 and PA 4098. These toys are very colourful and come in various shapes, they are all equipped with little bells and a metal chain with a hook for attaching it to the cage. 
Remember that all of Ferplast's wooden bird toys are painted using only products that are non-toxic to animals.