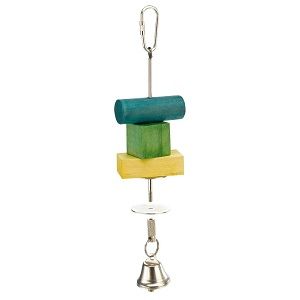 PA 4761
Rodent toy with food dispenser
Matching playing and fun
Equipped with wooden nibbling toys limiting the excessive growth of teeth
Refillable with vegetable, fruits or small snacks
Here is a nice and coloured way to supply food and snack to rodents like rabbits and guinea pigs. PA 4761 includes three wooden toys which can be gnawed at will and a small metal bell which diffuses a cheerful sound. The toy is rechargeable and can be easily filled with with food and other small snacks for your friend. Thanks to the hook it is equipped with, it can be fixed with extreme ease to your rodent cage. Coloured with atossic paint for the maximum safety.