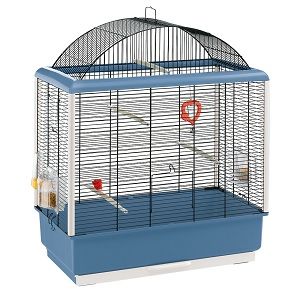 PALLADIO
Canary and small exotic bird cage
Dimension: 59 x 33 x h 69 cm
deal for canaries, exotic and other small birds
Elegant design with panoramic roof
High base to avoid dirt from coming out
Complete with accessories
Base with removable trays for easy cleaning
Save space system, to reduce volume when knocked down

Birdcages in the Palladio range are ideal for canaries and small exotic birds and are carefully designed, with a linear, refined look and a particularly large panoramic roof, reminiscent of the domes built by a famous Venetian architect. They are all sold in practical space-saving assembly kits and are available in three sizes: Palladio 3, Palladio 4 and Palladio 5. 




Inside the Palladio birdcages you will find some essential accessories, including Brava swivel feeders, a water bottle, extendable soft rubber perches, a handy universal food hook and a cute heart-shaped mirror with a little bell. The largest model, Palladio 5, also includes a plastic swing for canaries. 




All the cages can be used with our strong plastic or modern metal stands in the Sumet range of products. 




To facilitate cleaning, there is a convenient removable tray in the bottom of the cage (there are two trays in the largest cage).