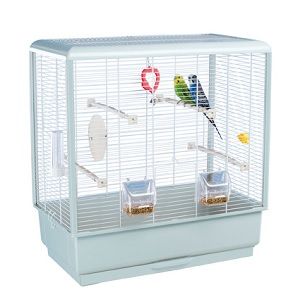 PIANO 4
Canary and small exotic bird cage
Dimension: 59 x 33 x h 60 cm
Ideal for canaries, exotic and other small birds
Wide inside room
Essential design
High base to avoid dirt from coming out
Complete with accessories
Base with removable trays for easy cleaning
Save space system, to reduce volume when knocked down

Piano 4 is a birdcage with a basic, linear design, characterized by a structure with columns and frame made of plastic. It is very spacious and is suitable for birds like canaries or small exotic birds. It also features a deep plastic base with a removable tray for easy and fast cleaning. Accessories included: removable swivel feeders, rubber-coated plastic perches, a drinking bottle, a food clip for vegetables and a mirror-toy. 





In the Piano range of products, you will find particularly comfortable habitats that can accommodate several birds together. They can all be used with our plastic or metal stands. The bigger models include Piano 5, Piano 6 and Piano 7.