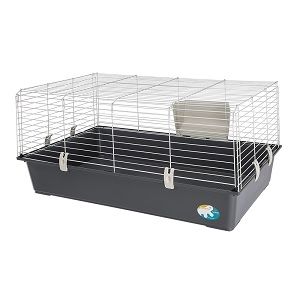 RABBIT 100 (57052070)

Rabbit cage with opening door
Dimension: 95 x 57 x h 46 cm
Front full opening door for easy cleaning
Easy and safe opening/closing system thanks to plastic clips
Raised floor with stair-step wall, can be used as shelter
Accessories included
Save-space packaging

Do you need to accommodate a cute rodent at home? Nothing could be simpler, thanks to the Rabbit 100 rabbit hutch. This habitat is particularly large and has an opening at the front with plastic hooks to keep it closed, ensuring your pet the utmost safety. Rabbit 100 is equipped with a plastic base and a painted wire mesh structure.




Accessories included: a feeder for hay, a drinking bottle, a food bowl and a shelf with a stepped partition, useful for providing your pet a sheltered area.




A metal stand is also available as an optional. 




Remember that a coloured, Decor version of Rabbit 100 is also available.