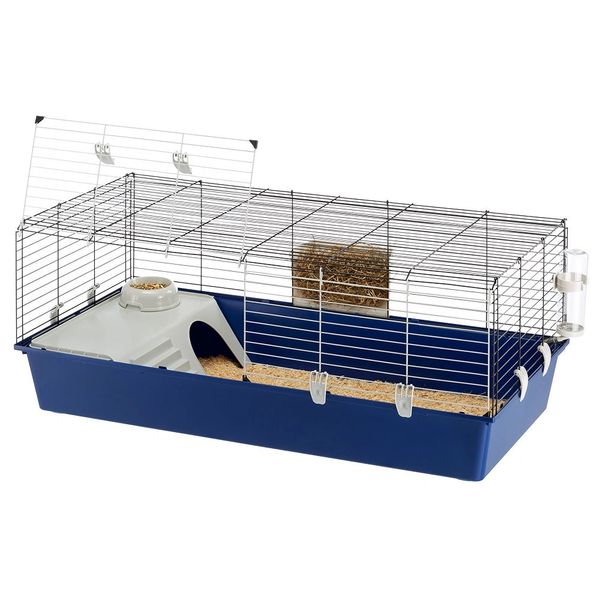 RABBIT 120
RABBIT 120
Perfect for rabbits and guinea pigs, Rabbit 120 has a deep coloured plastic bottom on which a metal mesh is placed. The mesh is coated with special corrosion-resistant paint. The front part is divided in two compartments that can be completely lifted for easier access. This also makes everyday cleaning easier. For deeper cleaning operations, simply detach the mesh from the bottom by unhooking the snap flaps on the sides, designed for extra safety.
The Rabbit 120 cage for rabbits and Guinea pigs is roomy inside and comes with all the necessary accessories for your little pet: hay container, water nozzle, food bowl and a little house for sleeping, all made of plastic.
Rabbit 120 is sold in a space-saving packaging, in line with the policy of respect for the environment that Ferplast has always followed. If you wish, it's possible to purchase Stand 120 separately, the metal support with castors that makes moving the cage around a breeze.
Cage for rabbits and guinea pigs made of varnished metal mesh
Mesh and plastic bottom connected on the sides by snapping flaps
Mesh front side divided in two parts that can be completely lifted
Accessories included: 1 hay container, 1 water nozzle, 1 house and 1 bowl
Easy cleaning: simply unhook the bottom of the cage
Comes in a space-saving packaging
Optional: support with castors Stand 120