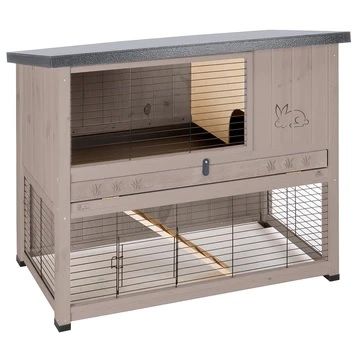 RANCH 100 (57090011)
RANCH 100
The Ranch 100 Restyling rabbit house is a veritable dwelling for rabbits that will provide your friends with both safety and comfort. Suitable for outdoor use as well, it's sturdy and made with FSC™ certified Nordic pine wood, that is sourced from forests that are managed correctly and responsibly according to strict environmental, social and economic standards and other controlled sources. The wood is treated with an environmentally-friendly, non-toxic anti-mould varnish that is UV-resistant and water repellent, applied with flow-coating technology for perfect protection through time. In addition, the boards are carefully assembled and screwed together, making the structure particularly solid and durable through time.

The cage has a unique two-storey structure divided in different areas, designed to fulfil the needs of your pet throughout the day. On the ground floor there is a metal fenced area with a sliding door closed by a safety hook, and a set of wooden stairs leading upstairs. The upper floor has a roomy bottom with two plastic trays to contain the litter and a drawer the rabbit can use to sleep, finely decorated on the outside.

What about maintenance? No problem! To make it easier to clean the cage and to pick up your rabbit when necessary, the Ranch 100 Restyling rabbit house has a removable roof. In addition, the two plastic trays used to collect rabbit poo are easy to remove, and are kept hidden from view by a flippable wooden door that can be locked in place with a hook. The opening that gives access to the lower floor can be closed with a practical lid, also useful to make cleaning easier. Its edges are higher to keep the litter from spilling.

The Ranch 100 Styling rabbit house is available in two colours. Pick your favourite for your little friend's dwelling!