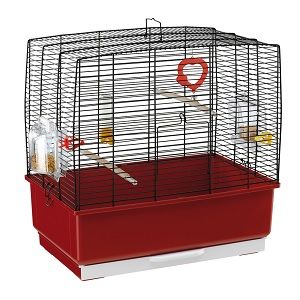 REKORD 3
Canary and small exotic bird cage, with decorations
Dimension: 49 x 30 x h 48,5 cm
Ideal for canaries, exotic and other small birds
Metal wire plastic coated structure
Base with long lasting and scratch-resistant decorations
Carrying handle
Removable tray for easy cleaning
Accessories included

Rekord 3 Decor is a medium-sized birdcage with a rectangular base and is ideal for canaries, exotic birds and other small birds. The plastic base features stylized decorations of flowers, printed using special technology that makes them resistant and durable. The structure is strong and is made of painted wire mesh. Rekord 3 Decor comes complete with accessories, including plastic perches, Brava 2 removable swivel feeders, food clips and a mirror-toy. 




This cage is easy to look after and can be cleaned in no time, thanks to the plastic base with a removable dirt-collecting tray. The base is particularly roomy, preventing dirt from leaking out. Caution: we recommend that you clean the cage with water and a mild soap, to avoid damaging the decorations on the base.