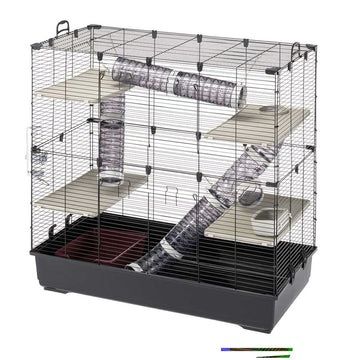 SARA XL (57064417)
SARA XL
Sara XL is a large cage for ferrets and chinchillas made of painted wire mesh with a thermoplastic resin bottom. Structured on several levels thanks to the comfortable shelves connected by tubes for ferrets, the cage ensures a comfortable space for the animal's daily activities, encouraging movement and exercise.

Sturdy and safe, the habitat is equipped with corner supports and fixing clips to guarantee maximum solidity and safety, it has comfortable handles on the roof for easy movement. On the front wall, an opening door allows easy access for daily maintenance operations. The door is equipped with special locking hooks to prevent accidental escapes of the animal.
For more thorough cleaning, it is possible to completely separate the bottom from the mesh by releasing the side closure clips.
Accessories included: feeder, drinker, set of tunnels with metal chains for hooking and ferret toilet. The toilet, also suitable as a chinchilla bath, is equipped with a large bottom to contain sand and litter without dispersion, ensuring hygiene and an always tidy environment.

Available as an accessory, you can purchase the L 140 wheel set, which is useful for making moving around easier.

Furthermore, it is possible to apply the Metrò universal connection system (tunnel, fittings and small house) to the cage, thus expanding the space available to your friend: have fun creating many new paths by encouraging exercise and moments of leisure!
Note: The tunnel can be connected to the side of the habitat by cutting the net and must be fixed with the appropriate clips.

Sara is an eco-sustainable product: it is in fact produced with material from industrial and post-consumer recycling, for the safeguard of the environment in which we live together with our animal friends.