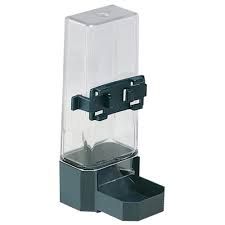 SILVER SPECIAL
Plastic fountain for budgies and cockatiels
Made of plastic with a large drinking point
It can be fastened firmly to your bird cages
Available in mixed colours
Silver Special 4560 is a drinking bottle for budgies and cockatiels, practical and capacious, supplying clean and fresh water to your birds. Entirely made from plastic, it has a large base with a drinking point so that the bird can lean and drink in total quietness. Equipped with a transparent tank, this water fountain for birds allows you to check in a flash the quantity of water available. Moreover, it is complete with an efficient cage fastening system making it stable and safe.