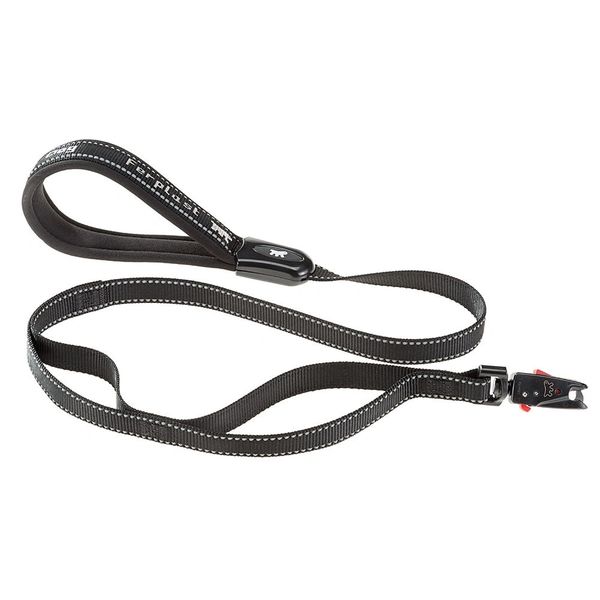 SPORT DOG MATIC
SPORT DOG MATIC
Great innovation at Ferplast! Sport Dog Matic is the dog lead equipped with an automatic hook, one of our company's exclusive creations. The hook clip combines maximum safety and ease of use, making it quick to fasten and unfasten from the collar/harness through a magnetic mechanism. The hook is both light and robust and is made of special engineered plastic; thanks also to its steel pins, it ensures a perfect grip when your dog is pulling. Lastly, as well as being extremely safe, it can be opened using two buttons, to avoid accidental release.

The Sport Dog Matic lead is made of top quality materials, which are durable and long-lasting, and guarantees the utmost comfort during use, thanks to the ergonomic grip with soft padding. All the leads are made of strong nylon, which ensures excellent durability even when your pet is pulling hard, and are available in three modern colours and two different sizes. The models have a particularly sporty design and have reflective stitching making them easy to see in the evening and at night; if you have no time to take your furry friend for a walk during the day, this is the ideal product for you!
Lastly, in order to give you greater control over your four-legged friend, the Sport Dog Matic leads have two extra handles: this system will prove to be very useful especially in situations of danger, or when you are near other animals.

You can choose the most suitable lead, based on the size of your dog. Sport Dog Matic G20/120 and G25/120 leads have a large hook, ideal for medium-large sized dogs weighing up to a maximum of 60 kg and can resist a pulling strength of up to 180 kg. Both models are 120 cm long and have different widths, of 20 or 25 mm.

The hook is very useful and easy to use: firstly, you just have to press the two buttons at the same time to open it and then approach the ring on your dog's collar/harness to activate the hook's automatic fastening. In order to unfasten it from the collar or harness, just press the two buttons again. Think about how useful this is: for example, even if you are holding shopping bags with one hand or if you are speaking on the telephone, you can fasten or unfasten the lead to the collar or harness with the other hand with one quick, simple movement.

The collars and harnesses are also part of the Sport Dog range and both have soft padding to ensure the utmost comfort for your pet and reflective stitching for nighttime walks in total safety. Collars, harnesses and leads are available in the same colours and can be matched to each other at any time for a perfect overall look!
Nylon dog lead
Innovative automatic hook with a magnetic mechanism, fastens/unfastens to the collar or harness
Ergonomic grip with soft padding
Reflective stitching makes it easy to see in the evening and at night
It ensures a good, comfortable grip and safe, effective control and it prevents any abrasions
Two extra handles ensure better control over your pet
The use of top quality, long-lasting materials
Available in trendy fluorescent colours
Sporty design with writing on the handle and a small Ferplast logo
Two sizes to choose from depending on the size of your dog
Hook in strong engineered plastic, Large size:
Sport Dog Matic G20/120 and G25/120 with large hook for dogs weighing maximum 60 kg
Length of leads: 120 cm
Width of lead: 20 or 25 mm depending on the model
Matching padded collars and Swedish harnesses are available in the same Sport Dog range