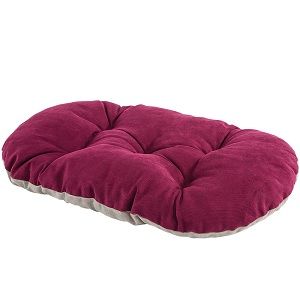 VENUS
Made of water-repellent synthetic fabric
Ideal for dogs and cats
Machine washable at low temperature 30°C
Perfect to be matched to the Siesta Deluxe plastic beds for dogs and cats
Venus is an oval-shaped cushion for dogs and cats made of synthetic velvet-effect fabric. Proposed in four different sizes suitable both for cats and dogs, is available in patterns with very trendy colours. Soft and very comfortable thanks to the comfortable internal padding, is made of fabric with a slightly irregular surface: light side in the lower part, coloured in the upper side. If you want, the cushions for dogs and cats Venus can be matched to the plastic beds for animals of the range Siesta Deluxe and represent a valid alternative to the classic Relax cotton cushions. Thanks to the double-face water-repellent fabric, they resist to small liquid leakage and can be used as you prefer. The smallest size Venus 45 is perfect for small beds like Siesta Deluxe 2, the middle size Venus 55 fits all hard beds Siesta Deluxe 4, while Venus 65 easily fits Siesta Deluxe 6 beds making them very comfortable. 
The larger size Venus 78/8, instead, new-born of the range, is perfect to be matched to the pet beds like Siesta Deluxe 8; this soft and big cushion will offer to your animals all the comfort they need. 

Like all the cushions for animals by Ferplast, Venus as well can be machine washed at 30°.