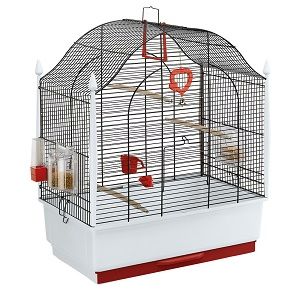 VILLA
Canary and small exotic bird cage. Brass.
Dimension: 50 x 31 x h 63,5 cm
Ideal for canaries, exotic and other small birds
Peculiar shape with rounded roof
Wide plastic base with removable tray
Carrying handle
Accesories included

Introducing a little villa for your feathered friends! This cage is ideal for canaries and exotic birds. Villa has a rounded roof, providing your birds with more space and freedom of movement. It has brass-coated wire mesh, giving the cage an elegant look and complementing the black base and lateral columns. Included with the cage are rubber-coated plastic perches, Brava 2 swivel feeders, a swing and a mirror-toy with a little bell, a drinking bottle, a feeder for mash and food clips. Villa is a well-designed birdcage for canaries, with a handle for easy carrying and a convenient door at the front. With regard to cleaning, don't worry! Thanks to the removable tray, cleaning is a piece of cake.