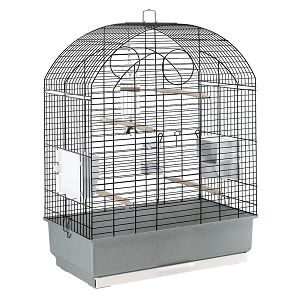 VIOLA
Cockatiel and budgie cage
Dimension: 59 x 33 x h 80 cm
Ideal for cockatiels and budgies
Wide room thanks to the rounded roof
Plastic coated metal wire structure
Wide base to avoid dirt from coming out
Removable tray for easy cleaning
Special accessories included

Viola is a birdcage for cockatiels and is also ideal for budgies. It has a spacious, rectangular base with an essential tray for collecting dirt and droppings, which is easily removable for cleaning. Its special rounded roof ensures great comfort and freedom of movement for your feathered friends. 




Viola cages come complete with specific accessories for the birds it was designed for, including soft, rubber-coated plastic perches to avoid injury to your bird's feet, Brava 4 swivel feeders, a plastic drinking bottle and a toy with a mirror and a little bell. 




The plastic stand is available as an optional.